If you're looking for yet another reason to get excited for Madden NFL 13, how about the opportunity to build the "Madden Ultimate Team"?
This free-to-play game mode is a cool combination of trading cards and fantasy football set in the world of Madden NFL 13. You will be able to buy, earn, and trade NFL players, all in the pursuit of building your own Madden Ultimate Team. Stack your team with awesome NFL legends from past and present eras, and try to see if your team can stampede its way to the Super Bowl and win it all.
Click here to pre-order Madden NFL 13 and get exclusive bonuses from Amazon!
You want quarterbacks? How about dominating the passing game with Joe Montana, Troy Aikman, or Warren Moon? You will need the best receivers, of course, plus the fastest, strongest, and sneakiest running backs ever to play the game. You can take your pick from a long list of the greatest stars in the NFL, but first you will have to earn the right to use them.
Madden NFL 13 Ultimate Team Trailer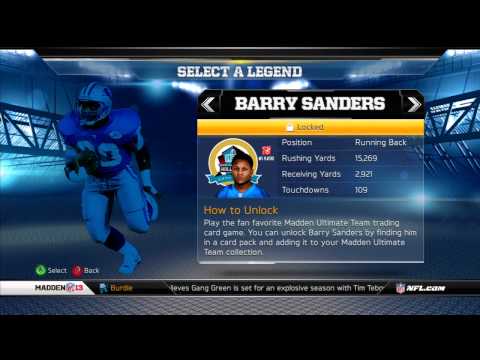 Start your game in Madden Ultimate Team mode and you'll be given the opportunity to select your team captain. If you have downloaded the featured cards of the 1st round draft picks from the 2012 NFL Draft, you can then use those rookies in your team if you want to. Don't worry; those rookie cards will be upgraded as the season goes by, so your cards will reflect their real-life performances and achievements.
There will be plenty of single player challenges waiting for you, as well as online games where you can go head to head with other real-life gamers, so make sure that you get the best players, build the best fantasy team, or else suffer the consequences of watching your team get stomped into the dust by the competition.
I don't know about you, but I'm already excited at the prospect of unlocking Joe Montana and playing as him in the Connected Careers mode. The Solo Challenges will also give me a chance to test my defensive skills against the likes of Calvin Johnson Jr., which happens to be the cover athlete for Madden NFL 13.
Get a $15 Credit and Amazon Exclusive Pre-order Bonuses
Pre-order Madden NFL 13 and receive a $15 promotional credit toward the purchase of items shipped and sold by Amazon.com (certain exclusions apply, including but not limited to Kindle books, gift cards, and Amazon Appstore for Android apps).
Also, pre-orders get the Andrew Luck Future Stars Draft Pick Madden Ultimate Team Card for immediate use in Madden NFL 12 and future use in Madden NFL 13, as well as the Amazon exclusive NFL Legends Joe Gibbs and Lawrence Taylor for use in Madden Ultimate Team and the Connected Careers mode.
The $15 promotion and NFL Legends codes will be sent via email within two days of your order shipment and the Andrew Luck code will be sent to you via email within two days of your pre-order.