The App Store finally saw the arrival of The Walking Dead: The Game just a few days ago, and based on early play, it looks like Telltale Games have learned from its mistakes and cleaned up the sloppy gameplay that its earlier games have been criticized for.
As usual, the characters and the dialogue are as savvy and crisp as ever, which have always been trademarks of recent offerings from Telltale Games. The game mechanics, on the other hand, have been the ones to take a well-deserved beating from both the gamers and the media, but this time around, The Walking Dead: The Game [$4.99] looks like it doesn't slouch around like its grisly namesake.
One of the best things we love about this game is that it takes a welcome break from focusing on the undead and spending more time with the development of the main character and how to survive in a dark, new world.
Believe it or not; a zombie game that is less about the outright destruction of zombies and more about the details of leading a seemingly futile existence in a lawless, bleak environment among the walking dead can be surprisingly refreshing.
I mean, sure, it's awesomely fun to blast or slash away at those pesky, grisly zombies. But it can get a bit tiresome after a while, you know? Surely there must be more to life in a zombie-infested world than just sharpening your sword and loading up your machine gun with exploding bullets, am I right?
However, it doesn't bode well for your life inside the game when you start off in the back of a police car. You play as Lee Everett, and you've just been charged with committing murder. On top of that, the world as you know it is a goner, and suddenly you're faced with the prospect of being eaten alive by the undead. Going from being a suspected felon to becoming a meal is not exactly an appetizing option, eh?
Let me say this, though: if you buy this game expecting to blast your way through a horde of zombies with a super shotgun, then you might want to reevaluate your decision. In The Walking Dead: The Game, you're actually expected to think, read, and think again. Every move and every decision you make will affect you later on in some way or another, so you better be careful with your actions.
Your character, Lee Everett, displays a far more complex personality than you would expect just by looking at him, which helps to make this game move along on a path that grows more interesting as time goes by. Don't worry; you'll still get plenty of opportunities to bash those zombies, but the major point of playing this game is experiencing a world without rules and living with the consequences of your decisions.
If you're expecting to cheat your way through the game by doing a lot of backtracking to discover all the available options in a decision tree, for example, you're out of luck. There's no doubling up to give the "correct answer", and you can't take all day to make a decision, either. If you want to change your decisions, you'll have to finish the game first.
Someone asked you a question in the game? You're given four choices as your possible answer, and only a limited time to select it. Whether your answer is right or wrong will remain to be seen, but be assured that you will have to live with it sooner or later.
For some people, that's even scarier than facing the zombies themselves, and I guess that's the whole point. How the other characters in the game perceive Lee Everett will greatly influence how his story unfolds in future episodes and what happens to him in the end.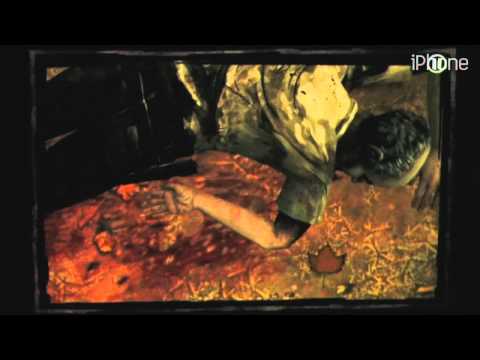 Start playing the game and you'll soon discover that for the most part, you'll be making decisions that fit in with your own personality. Oh sure, you'll be thinking that one answer will be obviously "correct" than the other choices, but you would be wrong.
The first episode of "The Walking Dead: The Game" is available in the App Store for $4.99, and you'll have the option of buying the next four episodes at $14.99 total. This is in fact a lot cheaper when compared to the console and PC versions. The good news is that this time around, Telltale Games has managed to deliver a solid, very engaging zombie game that actually requires your brains.
App Store Links:
The Walking Dead: The Game [$4.99]


** NOTE: Compatible with iPad 2 and up, and iPhone 4 and up – WILL NOT RUN ON EARLIER DEVICES **